I'll say. Audiences were fabulous, thank you to all my wonderful fans old and new. I wandered around BC playing music in cool places for cool people while fires raged all around. I saw many forest fires, even got close enough to see flames and hear the crackling. I hope things calm down soon.
I played at the White House! Don wasn't there… Funny connection, I found out after that my aunt's brother used to own it. It's an 1896 pub and hotel in Windermere and it was Teresa's birthday so the place was rockin. Here's Teresa and friends, with JML way in the back with John Wayne!
https://www.facebook.com/photo.php?fbid=10156633579729549&set=a.124563309548&type=3
I got to Muninn's Post in Kelowna late due to a 5-hour stoppage on the Trans-Canada highway. It's a cool Viking hangout and the crowd was really into the music. Next stop was the South Cariboo Garlic Festival where the food and music were fantastic. I had a great time and an excellent audience because they were waiting for Elvis to come on after me. Steve Elliot's Elvis tribute is a really good show.
I went back to Kaslo to play the Kaslo Hotel Pub, and it wasn't the last time I was in Kaslo on the tour! They say you shouldn't double back when you're touring, it's more efficient they say, only they haven't told the venues that they need to plan their schedules with MY calendar in mind. I don't even know how many times I crossed the Time Zone change.
Not only were the audiences and music great, the tour went along smoothly, no big problems or foul-ups along the way. I did have one show cancel with only a couple of days' notice, and Charlie at the Dam in Crescent Valley stepped up and booked me within 5 minutes of me sending an email. Thanks Charlie! That was a really fun night as it was Jam at The Dam so there were a bunch of awesome musicians in the house making an appreciative audience then putting on their own show after. Many thanks to Jay Conrad for the great sound. He puts the Rad in Conrad!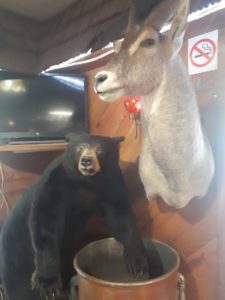 OK, Prospector Pub, Rock Creek. Oldest place on the tour, 1895, and as you can see from the picture, an attentive and appreciative audience. They brought a bunch of friends too. Regulars actually. I recommend stopping in for a cold one and some delicious food. They have delicious food there, and you'll meet all the regulars.
I went back to Sun Peaks Resort near Kamloops for the third time on the tour. So much for not doubling back! I played Morrisey's Pub and the audience came unglued! They wouldn't let me leave. They were really into the music, and when I ran out of material for the final encore I dragged Barrett's Privateers from the vault and stomped my way to the end. Crowd went nuts. What a night!
Horsethief Creek Pub in Radium Hot Springs capped the tour with a full house, great sound by Larry, great food, and a wonderful audience. I did have to compete with Roger Federer on the big screen, but he don't sing so good, I think I won The Open.
It was an amazing journey through southern BC. The sights, the shows, the wonderful people I met, the fires, the smoke, fresh Okanagan fruit, fresh Kicking Horse Coffee right from the Kicking Horse Coffee factory, start to finish the Burning Road Tour was a huge success!
Thanks again to all you wonderful fans, to the bar and restaurant staff who were always so helpful, and I can't wait to get back to your town!
See you on the road,
JML.